I managed to can some pickles today...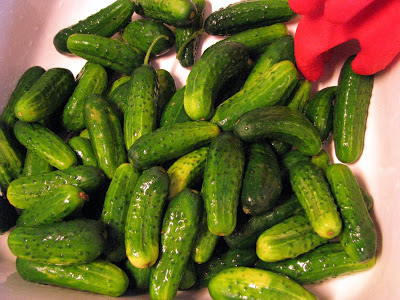 Yesterday, I got the recipe from my mom, my Gram's recipe...the best ever. Since my son only likes a limited amount of food lately, and pickles make the cut, I had already decided that I was going to make these. After the recent inspiration from Food in Jars, I bought the pickles at the farm market on Saturday.
I think part of my aversion to canning has been time, but also that my family always canned what they GREW. I know that plenty of farmers come to the city and sell amazing wares, but for some reason, I end up thinking that I should have planted this or that to "put up". Since I am now somewhat of an Urban Dweller, I am thankful that there are people to buy great fruits and veg from, since my little plot only supplies me with tomatoes, herbs, peppers and this year potatoes and eggplants.
I love thinking about my Gram's garden, when she still had nearly a half acre of haphazard things growing and thriving barely in rows. My Dad always planted a very neat and orderly garden: very beautiful and organized...but my Gram's garden is more like my garden I guess, a wing and a prayer. She definitely knew more about plants than I do, but she kept a very organic and loose feeling plot... more a semi-organized whim, I think.
I feel grateful to have scored mostly the same size small 1/4 bushel of cucumber from the farm market. I got the last one from that particular vendor, and the farmer told the poor soul who asked after I finished paying that she should have arrived 20 minutes sooner. I felt obligated to give her my apologies. I have no room for cucumbers in the land directly south of my semi-urban garage (notice I did NOT say "suburban" here), and truth be told, I don't think I'm much of a farmer. Oh, I wish it were in my genes, as my Dad and Gram could cultivate just about everything... but I fear that tomatoes and basil are about my limit of patience and ability. Give me an animal, even a large animal, to attend to and I think I'd do fine. But I think a lot more reading and research is due to me to become a better gardener.
I even bought the dill at the market. Too bad I don't live as close to my folks as I'd like, my Mom told me she has tons of dill to spare - me, I paid $1.
I finished the pickles, excited as can be. No pickle tastes as good to me as the ones I grew up eating...and this is THE RECIPE. So, I should be well rewarded in 30 days or longer when I try them, from my own hands, the first time.