Really it was last week when I went to the farm market and found these amazing specimens of beets and romaine lettuce. A new organic vendor (I'll try and remember to note the name when I go again tomorrow) had the most amazing greens I've ever seen. Really, I am not exaggerating. Normally you see a bunch of new beets at the market and would never really consider eating the ultra nutritious greens, but these would beg you to differ. And this romaine lettuce actually took up the entire drainboard in my kitchen before I cut it apart, tenderly washed and wrapped up the leaves in kitchen towels for an almost as amazing week long storage in the fridge.
amazing lettuce.
Monday, Sasa and Dimitri came for dinner and appropriately I made a humongous Greek Salad with said humongous romaine lettuce, complete with Greek Tofu. Do the Greek's eat tofu? They probably should... I baked this the same was as the Accidental Lunch Salad tofu, only used olive oil and lots of dill. Had I not used my last lemon to make the salad dressing, I would have included it in the marinade too. It was good. And true to my inability to see a mango in the store and pass it by, we sauteed champagne mangoes in a little butter and brown sugar to have over ice cream for dessert. No pics of that though, it was gone in the blink of an eye.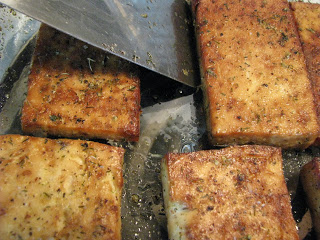 Greek Tofu.
Most of Wednesday I spent preparing for a 3rd birthday party for boy-o. I made hot beef sandwiches out of the organic grass fed cow my mom and I split last fall. It is such a great feeling to have a deep freeze with amazing high quality food in deep deep slumber just awaiting a whim. It ensures that even if I have the most meager of stocked pantry, I can make something without running to the shops first. This fall we're ordering some pork and a turkey from the same source, and I am already dreaming of what fun that will be. For the children, I made a cake plate full of peanut butter and jelly sandwiches...still the only food my son requests.
However, I was able to get him to eat a surprising amount of this Monday nite supper:
The party went well, my cleaning obsession was renewed with the washing of all floors today, and my favorite moment of last evening was the pinata. It was masterfully constructed in Mexico so that no child would ever be able to break into it. After 10 minutes of beating, my husband's friend brought out the aluminum bat from his trunk, and I accidentally got this picture when all of the candy was hurled at me at the speed of light. NICE.